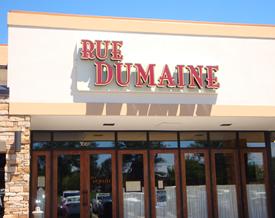 If you know Chris Small, you know he is a big guy with a big appetite!  Chris loves eating out at the many great locally owned restaurants and pubs in the Miami Valley.  Each month he'll share one of his favorites with you.
Rue Dumaine – 1061 Miamisburg-Centerville Road, Dayton, OH  45459 – www.ruedumainerestaurant.com
Rue Dumaine (Dumaine Street in French) was the name of the street on which Anne Kearney and Tom Sand's French Quarter restaurant, Peristyle, was located in New Orleans.  Anne and Tom have returned to their hometown of Dayton, but they wanted to bring their history back with them.  And believe me; I'm sure glad they did!  The menu is almost exclusively American Bistro fare.  But you can taste the influence of France, and you can see it in the presentation.  They offer a seasonal menu that changes weekly and uses many local ingredients.  If you are a wine connoisseur, this is a place for you!  The wine room is stocked with boutique wines from around the world.
I suggest starting your meal with the excellent American Artisan Cheese Plate.  I often find it tough to decide if I want a salad, but when I do, I order the Dumaine Salad – balsamic vinaigrette dressed LOCAL greens with seasonal garnishes.  If in the mood for seafood, I choose the pan seared sea scallops with roasted fingerling potatoes, wilted leeks and a blood orange beurre noisette.  They offer excellent poultry and beef selections, as well as vegetarian and vegan dishes.  Before making your final decision, be sure to always listen to the daily specials.
This is an incredible restaurant with an excellent atmosphere.  It is a great venue for entertaining that special someone, especially if you want to make a lasting impression!