If you know Chris Small, you know he is a big guy with a big appetite!  Chris loves eating out at the many great locally owned restaurants and pubs in the Miami Valley.  Each month he'll share one of his favorites with you.
Thai 9 – 11 Brown Street, Dayton, OH  45402 – www.thai9restaurant.com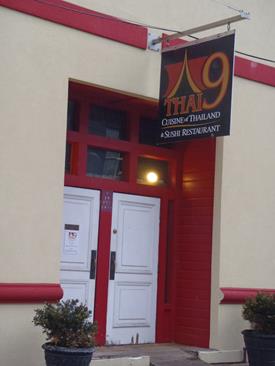 Thai 9 has always been one of my favorite spots.  It is very unique in so many ways…from the cuisine to the seating options.  Choose from two levels of outdoor seating on the deck, two levels on indoor seating, and seating right at the Sushi Bar.  The menu selections come directly from Thailand, and the Thai 9 chefs do not use MSG in any of the dishes.
I must warn you…I have a hard time deciding what to order because there is such a large selection.  However, I usually start out with the Carrot and Cabbage Slaw.  It is topped with a spicy, tangy dressing and ground peanuts.  And if I order a soup, I lean toward the Hot and Sour Shrimp Soup.  It is a little spicy, so be warned!  The Steamed Mussels are another favorite, and the Spicy Squid Salad is also an excellent choice.  Keep in mind that the menu is filled with vegetarian selections as well.
Thai 9's excellent entrees can be ordered at your preferred level of heat (spice), ranging from 1 to 9.  My favorite entree is probably the Seafood Clay Pot – a mix of shrimp, scallops, squid, and mussels along with vegetables and bean thread noodles in a brown sauce, served in a clay pot to keep it all warm.
Thai 9 also offers great rolls, and I order them often.  I enjoy the Dayton Roll, which contains smoked salmon, eel, cream cheese, caviar, avocado, and asparagus rolled in seaweed covered in sticky rice.  The menu has dozens of options, so there is sure to be a roll for every palate.  It should also be noted that not all rolls contain raw seafood, which is a common misconception.  Thai 9 does serve sushi which is raw but very fresh.  I always find it fun to sit at the Sushi Bar and watch the chefs prepare rolls and sushi.
Thai 9 has a great drink selection as well as desserts.  The staff is very knowledgable, and the service is always great.