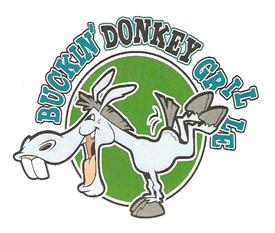 If you know Chris Small, you know he is a big guy with a big appetite!  Chris loves eating out at the many great locally owned restaurants and pubs in the Miami Valley.  Each month he'll share one of his favorites with you.
Buckin' Donkey Grille – 3808 Wilmington Pike, Kettering, OH  45429 – no website yet, but you can find them on Facebook!
The Buckin' Donkey was a place that I really didn't know anything about until recently.  My girlfriend mentioned it and insisted we try it out.  I'm no dummy, so I obliged her request.  As a die hard Bengals fan, I must say that the decor leaves a lot to be desired.  Be warned, this is a hard core Steelers' bar.  Despite this strike against them, the food and the service were both incredible.
I started out with the Crab Cake Minis, which were anything BUT "mini."  These excellent crab cakes were served with a tasty homemade remoulade.  We also tried the chicken wings with Jamaican jerk sauce.  I was again very impressed.  They looked more like legs than wings, and the sauce was very flavorful without being overbearing.
For my entree I ordered the Sea Demons (although I was very curious about the "Big as Your Butt" Burrito!), and they were an excellent choice.  The dish consisted of skewered Cajun shrimp wrapped in bacon and served over a bed of hot and spicy, cheesy jambalaya.  I sure hope my doctor isn't reading this.  I'm certain he would not approve of my meal choice!
The Buckin' Donkey is also earning a reputation for their fantastic specialty burgers.  They had an awesome selection at the bar, and the service staff is great.  Needless to say, this Bengals fan will likely venture back into Steelers' country soon for another great meal.