If you know Chris Small, you know he is a big guy with a big appetite!  Chris loves eating out at the many great locally owned restaurants and pubs in the Miami Valley.  Each month he'll share one of his favorites with you.
Basil's on Market – 213 N. Patterson Blvd., Dayton, OH  45402 – www.basilsonmarket.com
If you spend much time in Troy, you have likely tried Basil's on Market. The success of this location has led to a new downtown Dayton restaurant in the growing Water Street development.  Located across the street from Riverscape, Basil's offers a beautiful patio right next to the Great Miami River.
After reviewing the menu on this, my first, visit, I decided to start with the Lobster Bisque. It was rich and creamy, just like the menu said it would be, with a hint of sherry and finished with scallion-basil crème fraiche – excellent!  I also ordered the Seared Ahi Tuna Tostada appetizer.  It was a wonderful presentation of sashimi grade tuna over Basil's kale slaw on a crunchy tostada shell, finished with a house-made Asian sauce and Sriracha aioli.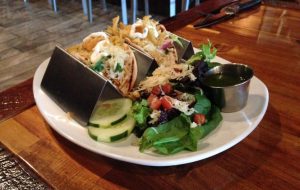 The Shrimp Wrap comprised of Cajun seasoned shrimp, cucumber, spinach, tomato, cheddar, crispy wonton strips, and sweet chili aioli in flour tortilla made for an amazing entrée. Basil's Signature Fries came along side.  They are sprinkled with truffle infused sea salt, misted with truffle oil, and topped with grated Parmesan – quite tasty!  Basil's also offers some burgers and pizzas that sounded delicious, so I'll have to try those on my next visit.
The tap selection is excellent. Basil's features a fully stocked bar.  The food, atmosphere, and service were extraordinary.  Visit this new downtown destination soon – I hope you enjoy it as much as I did!