If you know Chris Small, you know he is abig guy with a big appetite!  Chris loves eating out at the many great locally owned restaurants and pubs in the Miami Valley.  Each month he'll share one of his favorites with you.
Carillon Brewing Co. – 1000 Carillon Blvd., Dayton, OH  45409 –http://www.carillonbrewingco.org/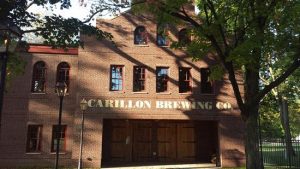 This month I visited a brand new Dayton attraction that is sure to become a favorite for many.  Before you even enter Carillon Brewing Co. you feel like you've gone back in time.  Real gas lights glow in front of the entrance of this beautiful facility.
Because of the recent opening, I've only been here once; however, I was quite impressed with the service as well as the food.  I ordered the Sauerkraut Balls, which were very tasty.  I also had the Ham and Cheese on a Pretzel Bun with their German Potato Salad.  It was delicious.  They have several good choices of beer and wine, but they will not be brewing their own beer for approximately 6 weeks.  Sounds like I'm going to have to make another visit around the end of October.
If you want to step back in time and learn a little about the history of brewing beer, this is the place to go.  Be sure to visit the Carillon Brewing Co. website for more details, but here's a bit to whet your appetite:
"Carillon Brewing Co. is a fully operational 1850s style brewery and restaurant.  Guests will get to enjoy the sites, sounds, and smells of the brewing process as our Brewster and her assistant demonstrate mid-19th century brewing methods from the well to the mug.  An exhibit featuring the history of brewing in the Dayton area is also included in the building.  Everything from the architecture of the room to the costumed interpreters will help tell the story of the Miami Valley's rich brewing history.
The restaurant will feature German style hearty fare that is inspired by the German heritage of many of the 19th century brewery owners and workers.  The food selection helps us share this story of the region's brewing history.  We will also be exploring the story of the first settlers and brewery owners who came from England and Ireland."