If you know Chris Small, you know he is a big guy with a big appetite!  Chris loves eating out at the many great locally owned restaurants and pubs in the Miami Valley.  Each month he'll share one of his favorites with you.
The Golden Jersey Inn – 6880 Springfield-Xenia Rd., Yellow Springs, OH  45387 – https://youngsdairy.com/the-golden-jersey-inn/
I remember going to visit my Aunt Doris and Uncle Hal in Enon, Ohio when I was a little kid. They always took me to Young's Jersey Dairy for ice cream. Who could have guessed then that Young's would grow into what it has become today?
Of course, Young's Jersey Dairy still serves fantastic ice cream, but now you can also enjoy a great meal at their full-service restaurant – The Golden Jersey Inn.  The menu focuses on good tasting, fresh, home-style country cooked meals. The offerings are traditional with room to add creative and seasonal sides. Given Young's reputation for delicious ice cream, desserts are also a big part of the menu.
The building housing The Golden Jersey Inn is interesting in itself. A barn with open wood beam framing and wood plank siding, it was constructed with wood pegs and authentic style joinery similar to Young's red barn that dates to 1869. The interior is really impressive with big 9 by 13-inch oak timber frames and a ceiling over 30 feet high!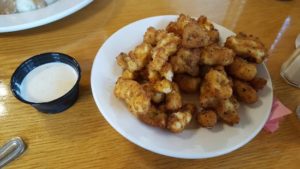 The Golden Jersey Inn offers breakfast, lunch, and dinner. I am typically with my kids, my grand kids, and my siblings when I stop in for a meal. It's a great place to take a large group after hiking the trails in Clifton Gorge or riding bicycles on the Little Miami Scenic Trail.
We like to start with their famous Deep Fried Cheddar Cheese Curds – very tasty! I recommend the Raspberry Walnut Chicken Salad – a mix of traditional greens and grilled chicken topped with sweetened dried cranberries, tomatoes, candied walnuts and fat free raspberry vinaigrette.  If you have a bigger appetite, try the Bacon Wrapped Pork Chop. This 8-ounce tenderloin chop is wrapped in bacon and cooked on the chargrill.  Another delicious choice is the Amish Style Beef & Noodles.  Slow cooked beef is combined with a special blend of Amish style noodles and served over homemade, skin-on, lumpy mashed potatoes.
Don't forget to leave room for dessert – no trip to Young's is complete without it!
Fall is a perfect time to visit Young's. Activities range from wool gathering to pick-your-own-pumpkins to haunted wagon rides and more. Get all the details on their website.
Is there a local restaurant you think I should try?  Please email or call me at 937-313-4626!