If you know Chris Small, you know he is a big guy with a big appetite!  Chris loves eating out at the many great locally owned restaurants and pubs in the Miami Valley.  Each month he'll share one of his favorites with you.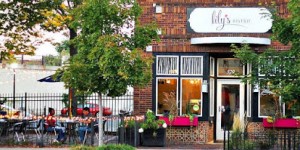 Lily's Bistro – 329 E. Fifth Street • Dayton, Ohio 45402 – www.lilysbistro.com
Lily's Bistro features fresh, fun, seasonal eclectic American food and drinks in Dayton's historic Oregon District.  Nice dining with casual, upscale food in an unfussy atmosphere.
They work with many local purveyors to support fellow small businesses and feature farm to table produce as much as possible. Because they change the menu seasonally, they are able to use a great deal of regional products. Every menu is a reflection of the current season in the Midwest, and embracing the season means the food, cocktails, beer, and wine list all change to be a reflection of the time of year.  Give them a holler to check the day's specials or with any questions.
My favorite night to go to Lily's is Sunday for free-range fried chicken with rotating southern influenced sides and snacks, as well as a few traditional entrees.  I order my chicken with the macaroni and cheese.  There is an outside patio that sits right beside Fifth Street.
If you like brunch it happens here every Saturday and Sunday. Their crab cakes with hollandaise and butter-sautéed vegetables are amazing.
Lily's is open for lunch and dinner every day except Monday. They have a great selection of drinks and a wonderful atmosphere. Their service is second to none. I hope you give Lily's a try – you won't be disappointed.