If you know Chris Small, you know he is a big guy with a big appetite!  Chris loves eating out at the many great locally owned restaurants and pubs in the Miami Valley.  Each month he'll share one of his favorites with you.
Mudlick Tap House – 3 E Market St Germantown, Ohio 45327 – http://mudlicktaphouse.com/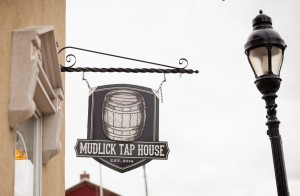 Mudlick Tap House is where Germantown goes for craft beers, good food, and a cozy atmosphere to enjoy them. Craft beer enthusiast and owner of AleFest, Jennifer Dean, and her business partner Forrest Williams, saw the need for a place to stop for a quiet beer and conversation with friends in the city they called home.  As luck would have it, the old bed and breakfast/Italian restaurant/bakery was available.  They reached out to the community and local artisans to create an identity that tapped into the region's past and celebrated the area they would serve.
Mudlick Tap House takes its name from a distillery started in the 1830's near the mineral rich waters of Mudlick Springs. Throughout the 19th century people came from far and wide to visit the area for the healing waters of the springs and the soothing whiskey of the distillery.  The dawning of the 20th century delivered a one-two punch that destroyed the venerable distillery.  The flood of 1913 did a great deal of damage, destroying most of the distillery with just the rising waters.  What was not washed away by the river was burned away; gas leaks helped set buildings on fire and seal the fate of the distillery.  Rebuilding was not an option for the owners.  Prohibition was on the horizon and competition was growing, especially from other southern Ohio and Kentucky distillers.
Today the taproom would be unrecognizable to anyone from the early 20th century.  The draft lines support many local microbreweries with six rotating taps featuring local breweries like Fifth Street Brewing, Lucky Star, Warped Wing, and others.  The Cincinnati beer community is also supported with features such as Madtree, Mt. Carmel, and Blank Slate.  The beers on draft are supplemented by forty different bottle selections from around the country.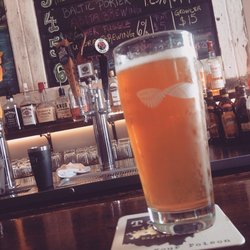 When I stop by Mudlick Tap House, I naturally start out with one of their many beers on tap. (Wine is served by the bottle for those who aren't beer drinkers.)  Add an order of Smoked Salmon to start. The Smoked Salmon is comprised of thin rye toast with caper cream cheese, smoked salmon, and house made pickled red onion topped with micro greens. Mudlick also serves delicious pretzels (from Dayton favorite Smales Bakery) and bier cheese.  For my main course, I like the Blackberry Pork Chop – a seared 7oz. chop finished with a blackberry thyme sauce, served with a baked potato and chef's seasonal vegetable.  It's amazing.  Mudlick also offers excellent salads and sandwiches.  I'll have to be honest, I've never been able to save enough room for dessert, but Jeni's ice cream is some of the best around.
The atmosphere, service, and incredible food at Mudlick Tap House are worth the drive to Germantown. I hope you enjoy this local spot as much as I do.