GOOD EATS IN DAYTON!
If you know Chris Small, you know he is a big guy with a big appetite!  Chris loves eating out at the many great locally owned restaurant and pubs in the Miami Valley.  Each month he'll share one of his favorites with you.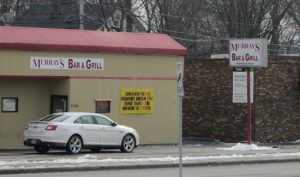 Murray's Place – 2866 S. Dixie Drive, Dayton, OH  45409 – http://www.murraysplace.biz/
Murray's Place has been one of the best kept secrets in Kettering for many years.  The food is excellent and the service is phenomenal.  This used to be my second office when I was with a former employer.  We worked until 7:00pm or so, then headed over to Murray's for dinner and cocktails.
If you are looking for appetizers, this is the place.  You can't go wrong with the Chicken Fingers, Chicken Quesadilla, or Buffalo Chicken Chunks.
At Murray's you can get breakfast on the weekends from 9:00am until 2:00pm.  I like the Suburban Skillet, an open faced omelet covered in home fries and sausage gravy.
For lunch they offer a selection of soups, sandwiches, salads, and specials.  They also serve Royal Ribs (for those of you who remember the Colony Club).
Murray's Place is also well known for dinner.  They have an excellent sirloin steak, as well as pork chops and fantastic grilled or fried grouper.
Murray's offers a vast number of beverage options.  This is a great place to meet people and enjoy a great atmosphere.