If you know Chris Small, you know he is a big guy with a big appetite!  Chris loves eating out at the many great locally owned restaurants and pubs in the Miami Valley.  Each month he'll share one of his favorites with you.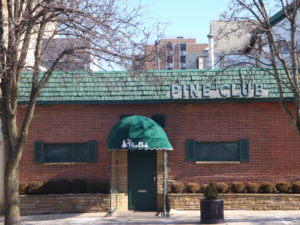 The Pine Club – 1926 Brown Street, Dayton, OH  45409 – www.thepineclub.com
The Pine Club has always been known as a Dayton landmark.  It has been in business for 65 years and has famously hosted several United States Presidents.  Of course, they waited in line for their table just like everyone else, because The Pine Club doesn't take reservations…period.  They also do not accept credit cards, so be sure you go prepared.
The best thing about The Pine Club is their consistency in both excellent food and good service.  Although their steaks are legendary, they also have excellent seafood.  The Pine Club's wine list has been honored with the Wine Spectator's Award of Excellence for having one of the most outstanding restaurant wine lists in the world.  It's considered the most comprehensive red wine selection and the greatest wine value in the area.
When having dinner at The Pine Club, I start with shrimp cocktail.  If you're hungry for steak, I suggest the "bone-in" ribeye steak…it will just melt in your mouth!  Dinners come with their famous stewed tomatoes, potato, salad, and rolls.  Personally, I prefer the creamed spinach as a side.  If I'm in the mood for seafood, I order Lobster Tails.  They are incredible!  And did I mention you get three of them?  I've never ordered a Pine Club sandwich (which just seems wrong), but I'm certain they are wonderful.
If you leave The Pine Club hungry, it's your own fault.  For a unique dining experience, go visit Dave Hume and the great Pine Club staff.