If you know Chris Small, you know he is a big guy with a big appetite!  Chris loves eating out at the many great locally owned restaurants and pubs in the Miami Valley.  Each month he'll share one of his favorites with you.
Flavio's Brick Oven and Bar – 5239 Ocean Blvd, Sarasota, FL 34242 – http://www.flaviosbrickovenandbar.com/
I typically review local independent restaurants around the Miami Valley. This month I decided to change it up. As a lot of you know, I like to spend time on the Gulf Coast of Florida. When I'm in Sarasota, I love to eat at Flavio's!
Deciding what to order is always a tough decision, but you can't go wrong with a peroni and maybe some calamari. While looking over the menu, I know I'll probably order the Lasagna Al Forno or the Spaghetti Carbonaro. Both dishes are nothing short of amazing. Flavio's also offers daily specials and feature an incredible happy hour from 4:00 PM to 7:00 PM. If you are up for dessert, I suggest the tiramisu.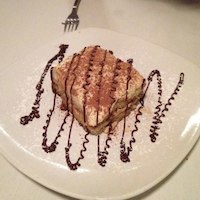 The restaurant was decorated by Flavio's wife and has a warm, eclectic atmosphere. If you are in the Sarasota area, I hope you stop at Flavio's for a meal. I know you will enjoy the friendly staff, incredible food, and drinks as much as I always have! Until next time!