If you know Chris Small, you know he is a big guy with a big appetite!  Chris loves eating out at the many great locally owned restaurants and pubs in the Miami Valley.  Each month he'll share one of his favorites with you.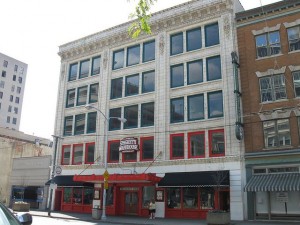 Spaghetti Warehouse – 36 W 5th St, Dayton, OH 45402 – visit the website
The Spaghetti Warehouse has been a favorite place to eat since my kids were little. Most people who live in Dayton know it has been downtown on 5th Street for a long time. And even though Spaghetti Warehouse is not an independent, I feel like it always has great food and service for a reasonable price. So if you're in to pasta, this is a place you have to try.
When I stop in for a meal, I start out with an appetizer like their made-from-scratch creamy dip of artichoke hearts, spinach, and Italian cheeses, garnished with Roma tomatoes and served with garlic crostini. Most likely that will be accompanied by one of their many selections of beer in a chilled mug. They also have a large selection of wines, sodas and mixed drinks.
Then if I was being good, I'd order one of their salads. But let's face it, if you're going to the Spaghetti Warehouse, you're not going to have a salad.  So I have to decide between my two all-time favorites: their Fifteen Layer Lasagna – made with layer after layer of lasagna, meat sauce, Italian pork sausage, ground beef, ricotta and mozzarella cheeses, made by hand and topped with homemade meat sauce – and the Chicken Parmigiana – tender chicken, mozzarella cheese, and marinara sauce served over spaghetti.
If you're still hungry after all this, they have a wide variety of desserts.