If you know Chris Small, you know he is a big guy with a big appetite!  Chris loves eating out at the many great locally owned restaurants and pubs in the Miami Valley.  Each month he'll share one of his favorites with you.
Watermark – 20 S. First Street, Miamisburg, OH  45342 – https://eatdrinkwatermark.com/
Their Philosophy…"At Watermark, our desire is that you have more than simply a meal. We want you to experience food in a way that leaves you completely delighted. Chef and owner Maria Walusis has been passionately preparing delicious food for over twenty-five years, and she wants to share that passion with each and every guest. Our dishes are freshly prepared to-order, and our sauces, dressings, and desserts are all house-made."
I've heard great things about this restaurant, so you know I had to give it a try. Because it was Restaurant Week I made reservations, and it was a good thing I did! The place was packed. I always take this as a good sign that I'm not just going to eat dinner but have an experience. As I walked in, there was a beautiful horseshoe bar and lots of beautiful tables and booths. The ceiling is painted black with exposed timbers because the location was transformed from an old tobacco warehouse.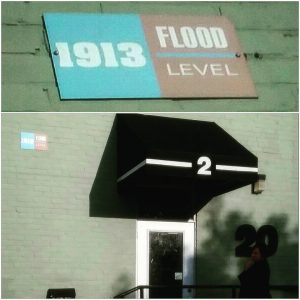 I ordered three courses from the Restaurant Week menu – a very tasty smoky sweet corn bisque appetizer, a Cajun grilled Mahi Mahi entrée served with pineapple salsa over rice, and a delightful Coca Cola cake for dessert. The menu offered several other entrees I would have liked to try, but you know…so much food, so little time!
I hope you get a chance to try out this quaint little restaurant. I think you'll be very pleased with the ambiance, cocktails, food, and service! And don't' forget to check out the flood water marker from the 1913 Flood…hence the name "Watermark."