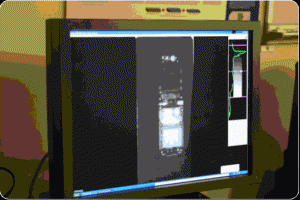 American Testing Services is always searching for new ways to help our customers develop and improve their NDT inspections.  In our continuing effort, ATS has been awarded another Phase I Small Business Innovative Research (SBIR) grant from the Air Force Research Lab based out of Tinker Air Force Base in Oklahoma.  The SBIR program is a highly competitive program that encourages domestic small businesses to engage in Federal Research/Research and Development (R/R&D) that has the potential for commercialization.  Through a competitive awards-based program, SBIR enables small businesses to explore their technological potential and provides the incentive to profit from its commercialization.
ATS and its subcontractor, the University of Dayton Research Institute (UDRI), will be tasked with evaluating the ability of Computerized Radiography (CR) to detect cracks.  CR is similar to film-based radiography, with the exception of how the image is captured and processed.  Rather than using conventional radiographic film, CR uses a flexible phosphor imaging plate, which is exposed in the same manner as film but is processed using a CR reader.  The reader uses a laser to convert the energy recorded in the IP phosphors into light.  The light output is recorded to create a digital image which can be post-processed using each manufacturer's unique CR software.
ATS and UDRI will look at several factors that affect the data collection and inspection of digital images and work to establish reliable CR images that can be used for crack detection.
For more information about the SBIR program visit http://www.sbir.gov/
For more information about American Testing Services's research projects, contact Nathaniel Reveal, Project Manager at nathaniel.reveal@americantestingservices.com.