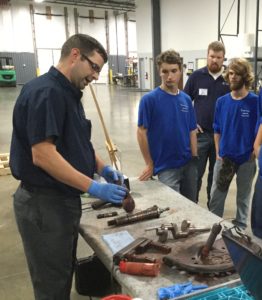 Ben Graves has served as one of our in-house Level III technicians in both Liquid Penetrant and Magnetic Particle inspection methods for the last four years. Recently Ben also became ASNT Level III certified in both of these methods.
For nearly half a century, ASNT (American Society for Non-Destructive Testing) certification has been the standard for the nondestructive testing industry. For employers, ASNT certification is an impartial validation of the competence of NDT personnel in the field.
The ASNT NDT Level III program provides third-party certification for nondestructive testing (NDT) personnel whose specific jobs require knowledge of the technical principles underlying the nondestructive tests they perform, witness, monitor or evaluate. The program provides a system for ASNT NDT Level III certification in NDT in accordance with Recommended Practice No. SNT-TC-1A.
The ASNT NDT Level III program is the core certification program for ASNT. Inaugurated in early 1977, ASNT NDT Level III certificates are recognized worldwide.
Ben is also a certified weld inspector (CWI) and teaches many of our training courses.