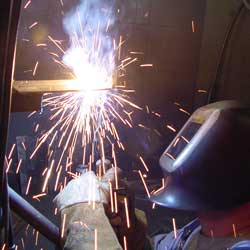 We are excited to announce that American Testing Services is now offering American Welding Society – Certified Welding Inspector (AWS-CWI) services!  With this new offering now in place, we'd also like to develop some awareness of how these inspections are outlined.
Typically, non-destructive testing (NDT) is performed when a part or project is at a given production stage and/or when it is complete.  Usually NDT is one of the last requirements before the service life of that part begins.  However, if it's a welded part or a project requiring AWS-CWI inspection service, the story is a bit different.
Depending on the required level of inspection work, the CWI needs to be involved long before any welding or fabricating even gets started.  This includes initial documentation verifying welder certification, material certifications, and filler material selection with certifications…just to name a few.  A CWI is usually required to be on-site during weld prep, fit-up, and tacking operations to certify that all of the weld joint requirements are met.  This could also include monitoring welding machine adjustments for proper amperage, proper part pre-heat / post-heat temperatures, and the actual welding operations.
As the part(s) or project moves through the fabrication and welding stages, the CWI is required to monitor and advise as needed to ensure the work is being performed per the job requirements.  All of the part or project information is documented during the entire process and a formal report is delivered to the customer upon completion.  Any end customer with a welded part or project requiring CWI inspections would expect to see the formal AWS-CWI reporting documentation when the part or project is complete.  Sometimes these customers even like to "pop in" for a visit while their project is under way.  This would be a very bad time to not have your CWI on-site or readily available!
So, if you see "American Welding Society – Certified Weld Inspection required" or "AWS-CWI inspection required" (it could be spelled out or abbreviated), don't treat this like a typical NDT requirement, saving the inspection work until last.  It could end up being very costly and embarrassing.  If you're not sure, give us a call.  We'll walk you through the process and probably save you a few headaches…especially if your customer decides to "pop in."