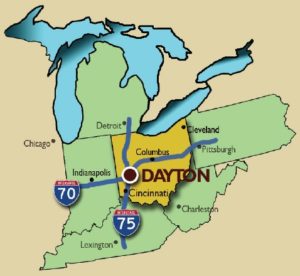 Given what we do at American Testing Services and the broadness of our customer base, we have the good fortune of talking with a lot of different people from a lot of different industry sectors.  This month, I thought I'd give you my opinion of how things are looking in the manufacturing world in Dayton…just from our perspective.  But I'm not going to give you a bunch of graphs or statistics, which 92.9% of people claim I make up on the spot.
Those of us in businesses that serve the Aerospace and Defense industries are familiar with and very proud of the Greater Dayton area's role in those industries.  In addition to being the birthplace of aviation and home of Wright Patterson Air Force Base, the area continues to draw investment to the many manufacturing, technology, and related businesses that populate the area.  Some recent announcements make that even clearer.  Several local businesses have received a share of the eight year, $960 million program known as ATEP II that will support the National Air and Space Intelligence Center at WPAFB.  Boeing's increased production schedules will benefit the approximately 500 companies across Ohio that support them.  Along with Boeing, General Electric Aviation has increased production – a move which has also benefited a lot of companies locally.
In addition, the Miami Valley area boasts a member of the House Armed Services Committee in Mike Turner (R-Dayton).  The Tactical Air and Land Forces Subcommittee, on which Mike Turner serves, recently held their field hearing at Sinclair Community College.  This event brought Aerospace and Defense decision makers to our area and showcased Dayton's many wonderful resources.
We have also seen increased production for the Oil and Gas industries consumable equipment.  The pending increases in oil and natural gas production in Ohio equates to increased need for drilling and extraction equipment, pipelines, fittings, and other hardware from local manufacturers.  And Ohio's energy sector is overwhelmingly populated by small businesses.
As I talk with many of our friends and customers, they are extremely busy – which is a great problem to have at any time!  Overall, we are seeing the industry regaining strength and moving forward into new and exciting ventures.  The best news seems to be that the days of Dayton's manufacturing industry having a singular focus are long gone.
I appreciate the 87.2% of people who took the time to read this article.