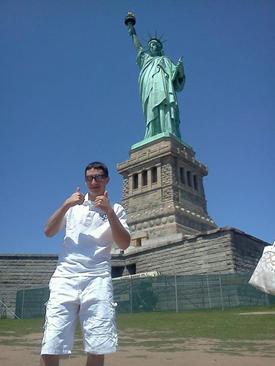 In past newsletters we've introduced you to Nathaniel Reveal and Brian Bulgrin – both members of our Ultrasonic inspection staff.  Rounding out that team is John Reamy, who joined ATS in January 2012.  Since then, John has become certified as a Level II Ultrasonic technician and works with our immersion system as well as contact ultrasonic inspection.  John is also completing Level II certifications in both Magnetic Particle and Liquid Penetrant.
John grew up as an Air Force kid, living all over the country.  In fact, he attended 9 different schools in 13 years!  John's father retired as a Lt. Colonel from his last post at WPAFB, and the family decided to remain here in the Dayton area.
Since he didn't grow up staying in one place for very long, it's no surprise that John loves to travel.  Some of his favorite destinations have been Nashville (for the awesome music scene), Colorado (to explore the outdoors in any season), and New York City (because there is always something new to experience).
Now that warmer weather is here to stay, John is looking forward to getting out on the golf course.  He also loves to ski and competes in a local pool league.  Keep that in mind if he ever challenges you to a game!