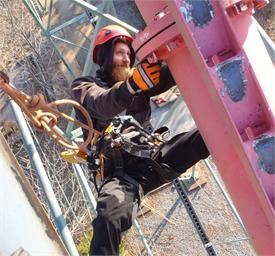 Chris Mollohan is the newest member of the ATS Rope Access Team.  Chris joined ATS one year ago, and in that time has earned his SPRAT Level I rope access certification as well as Visual and Magnetic Particle Level II inspection certifications.  He's also working on completing his Liquid Penetrant and Radiography Level II certifications.
Chris ventured out on his first rope access job with the team this fall to perform roller coaster inspections at Kings Dominion in Doswell, Virginia.  He's looking forward to the next trip out on the ropes!
Growing up in an Air Force family, Chris has lived all over the country, and even spent some time overseas.  From Nebraska to Florida to England to Louisiana…and he finally ended up in Ohio.  He enjoys spending a lot of his free time outdoors – whether it be working in his vegetable garden, cycling, mountain biking, or rock climbing.