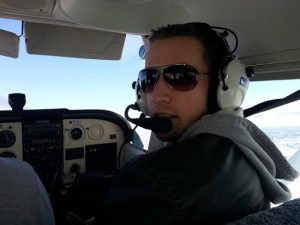 This month we have the pleasure of introducing you to the newest member of the ATS staff – Dennis Ward.  Dennis served in the Air Force for 7 years as a C-130 aircraft mechanic. His last year was served in the National Guard, based in Idaho, where he received NDT training in magnetic particle, liquid penetrant, ultrasonic, eddy current, and radiography inspection methods.  Dennis will be working primarily with our ultrasonic team.
Until moving to Ohio just recently, Dennis has spent most of his life in the Northwest, where snowboarding and driving race quads became big hobbies (no surprise there!).  Other than enjoying working on anything with a motor, Dennis says he enjoys "all the typical guy stuff – camping, hiking, shooting, and blowing stuff up."  We think he'll fit in around here just fine.
Dennis and his fiancé Melissa, who is active duty Air Force stationed at Wright Patterson Air Force Base, will be married on February 14th – congratulations!