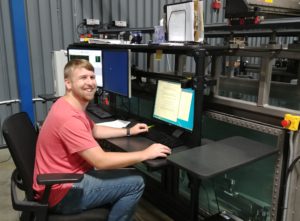 Our Ultrasonic department is happy to welcome Brad Green to their ranks.  Brad is somewhat new to the world of non-destructive testing and is making a big career change by coming on board with American Testing Services.  Though he studied engineering in school, Brad has previously worked as an intervention specialist / special education elementary school teacher in both Celina and Columbus.  Discussions with friends working in the NDT industry piqued his engineering interests.
Brad invested in NDT training on his own and only needs to build up experience hours in order to become a certified technician in multiple methods.  While NDT technician and elementary school teacher feel like they are worlds apart, Brad says that his role as an intervention specialist involved a lot of testing and data analysis. He feels those skills will be a great asset in this new position.
Brad and his wife are building their first home in Troy.  They are both wine enthusiasts and always enjoy sampling a new vintage!