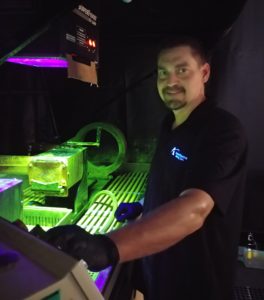 In September we welcomed a new face to our rope access team – Troy Taylor.  Prior to coming on board at ATS, Troy worked as an installer in the billboard industry.  In addition to installing the paper face style advertisements, Troy was part of installing the first six digital billboards in the Dayton area.  This involved removing the paper mounting surface, installing the large digital screen, and setting up all the electronics.
Troy has also worked as a production manager in a sign shop and has a bit of CNC experience.
Troy's climbing experience from the billboard industry makes him a good fit for our industrial rope access team.  He has already done some climbing with the team and will be attending SPRAT training in December.  Troy is also training in our magnetic particle inspection area.