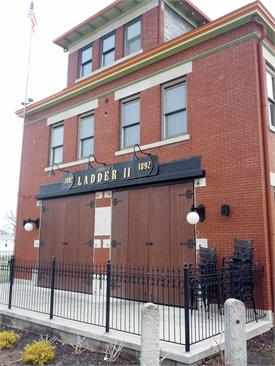 If you know Chris Small, you know he is a big guy with a big appetite!  Chris loves eating out at the many great locally owned restaurants and pubs in the Miami Valley.  Each month he'll share one of his favorites with you.
Jimmie's Ladder 11 – 936 Brown Street, Dayton, OH  45410 – http://jladder11.com
Jimmie's Cornerstone Bar and Grille, formerly located at 1001 Brown Street, reopened in a refurbished historic firehouse on November 11, 2011 as Jimmie's Ladder 11.  The firehouse, built in 1892, was one of the last remaining firehouses with horse drawn pumpers.
After having been in the Cornerstone on a few occasions, I was very impressed with the firehouse.  It was very apparent that no expense was spared on the restoration.  Then I started looking at the menu…very impressive and extensive.  Their house-made, fresh Pork Rinds with hot sauce (yes, I said "pork rinds") are a great start with an ice cold, frosty, adult beverage…and they have a large selection of beers!
The Cornerstone Salad with grilled chicken, pine nuts, dried cranberries, feta and asiago cheeses on chopped romaine, topped with Lucy's Garlic House dressing is delightful.  If you are in the mood for a sandwich, you are in luck – there are lots of them to choose from.  Try Sully's Philly and add mushrooms.  All the soups are made from scratch.  The New Orleans Style Gumbo will make you feel like you're on Bourbon Street.  Jason's Quesadillas are amazing…get My Big Fat Greek Chicken Quesadilla.  Jimmie's also serves pizzas, pasta, and calzones as well as steaks and chops.
Give Jimmie's a try!  If you can't find something to tantalize your taste buds on this menu, I just don't know what to tell you.