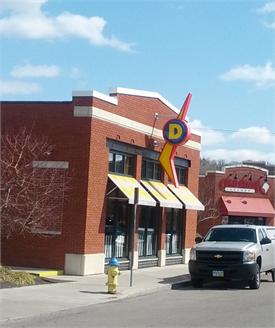 If you know Chris Small, you know he is a big guy with a big appetite!  Chris loves eating out at the many great locally owned restaurants and pubs in the Miami Valley.  Each month he'll share one of his favorites with you.
Dewey's Pizza – 131 Jasper Street, Dayton, OH  45409 – www.deweyspizza.com
Who doesn't love a good pizza?  When you want a tasty za, Dewey's Pizza is the place to go!!  (Good Eats disclaimer – Dewey's isn't truly a locally owned restaurant.  It's a mini-chain that started in Cincinnati about 15 years ago.  But the pizza is just so good, we're gonna let the "locally owned" part slide a bit this month.)
To get a seat at Dewey's you need to arrive early.  The lunch crowd fills this place fast!  I really enjoy the Harvest Salad to start (field greens with figs, applewood bacon, roasted pumpkin seeds, and Boursin cheese tossed with apple cider vinaigrette).  It's on the seasonal menu, so get it while you can.
Trying to decide which pizza to order is the hardest decision I have to make.  Luckily, the folks at Dewey's let you get half of one pizza on one side and half of another pizza on the other side.  So order a Socrates' Revenge on one half (olive oil, minced garlic, mozzarella-fontina blend, spinach, black olives, green olives, feta cheese, red onions, and tomatoes).  On  the other half get a Southwest BBQ Chicken (olive oil, smoked cheddar and mozzarella, black bean corn salsa, Amish chicken, roasted red peppers, and BBQ sauce).  You can also create your own pizza with their large selection of gourmet toppings.  Even if you are by yourself, order a 17″.  Then you'll have leftovers…and what's better than left over pizza?
To compliment your meal, Dewey's has a good wine list and a nice selection of craft beers on tap.  So go to Dewey's.  Enjoy a great pizza.