If you know Chris Small, you know he is a big guy with a big appetite!  Chris loves eating out at the many great locally owned restaurants and pubs in the Miami Valley.  Each month he'll share one of his favorites with you.
Bar 145 – 10259 Penny Ln, Miamisburg, OH 45342 – bar145austinlanding.com
Bar 145 is a gastro pub specializing in "Burgers, Bands, and Bourbon." Their "red Chucks, white china" motto showcases their desire to offer a relaxed atmosphere (employees sport red Chuck Taylor tennis shoes) while serving food that is comparable to the best restaurants.  Purchasing fresh products daily from local farmers allows Bar 145 to offer a variety of specials.  With a spacious patio, 50-seat oval bar, and strategically placed flat screen TV's, everyone is sure to find a favorite seat.
I suggest you stop in Bar 145 when you have time to stay awhile.  I typically order a craft beer from their large selection before checking out the vintage arcade games (Frogger is my favorite!).  Don't worry about bringing a pocket full of quarters – the arcade games are free to play!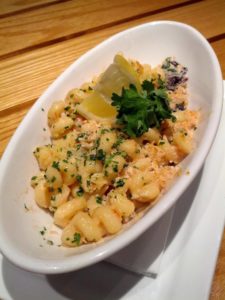 I'm a fan of the Confit Duck Legs, served with spicy buffalo sauce and crème de menthe bleu cheese dressing…delicious!  The White Truffle Fries, garnished with rosemary, white truffle, parmesan, and red pepper aioli, are hard to resist.  If you're indulging in carbs already, you might as well order the Maple Bacon Mac – a craft version of macaroni and cheese with chopped bacon, maple syrup, and Tillamook cheddar.  It is nothing short of amazing!
Street tacos are offered in several unique varieties – salmon, chicken wing, pulled pork, duck confit, and shredded beef.  Bar 145 is famous for their "Stack Your Own" sandwiches.  It is my understanding is that there are 145 different ways you can build your own sandwich.  Proteins include grilled salmon, a black bean veggie burger, grilled chicken breast, and a bison burger.  Top your choice with a wide selection of cheeses, veggies, house sauces, and other special additions.  They have great soups and salads as well.
I hope you enjoy Bar 145 as much as I have.  The drink, food, service, and entertainment value are well worth the trip!