If you know Chris Small, you know he is a big guy with a big appetite!  Chris loves eating out at the many great locally owned restaurants and pubs in the Miami Valley.  Each month he'll share one of his favorites with you.
Bennett's Publical Family Sports Grill – 67 S. Main Street, Miamisburg, OH  45342 – http://bennettspublical.com/
Every time I step inside Bennett's Publical Family Sports Grill, I remember all of the great restaurants that have operated in this attractive location in the heart of downtown Miamisburg. Bennet's is carrying on a great tradition! From high-end meals to traditional comfort food and locally sourced menu items, you'll find everything you're looking for at Bennett's.
I like to share the Fried Pickle Chips or the Fried Cheese (aka fried cheese curds) – both are delicious. If you are looking to be healthy, they offer a number of great salads. I enjoy the Grilled Chicken Salad made with an iceberg and romaine blend topped with grilled chicken breast, shredded cheddar, chopped tomatoes, and egg. It's an awesome salad!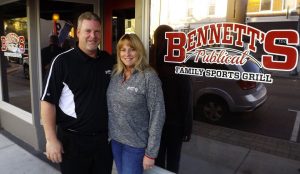 If you're hungry for a sandwich, I suggest the Chicken Philly Cheesesteak (grilled chicken with green peppers, onions, mushrooms, and cheese) with a side of sea salt or waffle fries. Bennett's has great pizza and a nice selection of entrees, including some delicious steaks.
Bennett's is a great place for lunch, watching the game (on one of 26 TVs), or a night out. I hope you enjoy the friendly atmosphere, excellent service, and great food as much as I do.