If you know Chris Small, you know he is a big guy with a big appetite!  Chris loves eating out at the many great locally owned restaurants and pubs in the Miami Valley.  Each month he'll share one of his favorites with you.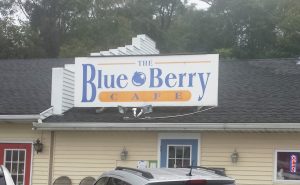 Blue Berry Café – 72 Bellbrook Plaza, Bellbrook, OH  45305 – visit them on Facebook
The Blue Berry Café is located in the center of Bellbrook and is a great place for breakfast or lunch.  I like the "Create Your Own Omelet."  They offer many ingredients to choose from, such as bacon, sausage, turkey, corned beef hash, chicken, and ham…and that's just the meat category!
Hungry for pancakes?  The "Big As Your Plate Pancakes" are no joke.  And they taste as good as they are big.  If you are watching what you eat, they also serve oatmeal with cranberries and pecans.  And saving the best for last, you have the try the Blue Berry Cafe muffins…incredible!
If you can't make it for breakfast, stop in for lunch.  They have amazing salads, such as the Buffalo Cobb Salad.  It is a combination of medium spicy Buffalo chicken tenders, fresh salad mix, and rows of chopped celery, cucumbers, tomato, cheddar cheese, and blue cheese crumbles.  If you are in the mood for soup, try the "The Barnsider" Baked French Onion Soup.  They also offer a huge variety of freshly prepared sandwiches.  Breads are made fresh daily by Rahn's Artisan Breads.
The quality of both food and service are worth a visit to this fine establishment with a true small town feel.