If you know Chris Small, you know he is abig guy with a big appetite!  Chris loves eating out at the many great locally owned restaurants and pubs in the Miami Valley.  Each month he'll share one of his favorites with you.
The Brunch Club – 601 S. Main Street, Dayton, OH, 45402 – visit their Facebook page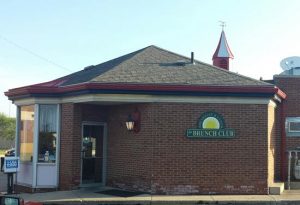 I've driven past The Brunch Club many times but never really thought about stopping to eat.  I'm sure glad I did!
The Brunch Club's goal is proudly printed on the front of their menu:  "It is our commitment to provide our customers with high-quality, made to order meals.  We are dedicated to prompt, friendly and professional service, and we are genuinely concerned about the quality of service you receive.  Please take the time to let us know how we are doing. Thank you for making The Brunch Club your restaurant of choice.  Sincerely, The Brunch Club Staff"  This place is the real deal and they live to achieve their goal.
They have a very extensive menu for such a small place.  Everything I've selected has been incredible.  I usually order a cup of coffee, a large ice water, and a Southern Scrambler (three eggs scrambled with diced bacon, ham, sausage, green and red peppers, onions and mushrooms topped with sausage gravy, cheddar cheese and tomatoes).  Naturally, I order egg beaters and no onions.  It is excellent!
They have a great selection of overstuffed omelets, or you can build your own.  Other excellent choices on the menu include blueberry pancakes, French toast, and…are you ready for this?…chicken & waffle!
If you'd rather have lunch, the burgers are great.  I like the Mushroom Swiss Burger.  The Brunch Club is another good choice.  I also recommend the Blackened Chicken Salad with spicy slices of marinated chicken breast, topped with cheddar, green onions, green and red peppers and diced tomatoes, served on a mound of salad greens.
The Brunch Club has excellent service and food, but don't forget that they are only open from 7:00 AM to 2:00 PM!