If you know Chris Small, you know he is a big guy with a big appetite!  Chris loves eating out at the many great locally owned restaurants and pubs in the Miami Valley.  Each month he'll share one of his favorites with you.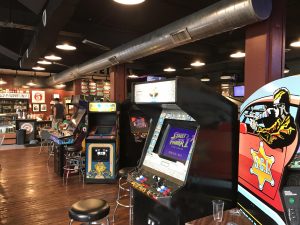 Canal Street Arcade and Deli – 308 E. 1st Street, Dayton OH  45402 – https://canalstreetarcadeanddeli.weebly.com/
Stop by Canal Street Arcade and Deli for a local brew (they feature 12 rotating taps along with bottles and cans), but stay to play some free, old school arcade games. We're talking favorites like Centipede and Ms. Pac-Man plus many, many more. Games + beer + friends + great deli food = all the elements of a fantastically fun evening.
I'm not sure which is more difficult – choosing your favorite arcade game or choosing your favorite sandwich!  Canal Street is the new adaptation of 5th Street Wine and Deli, formerly located in the Oregon District.  Menu favorites made the move, and new items have been added.  Choose your sandwich in small, medium, or large size but bring your appetite to tackle a large!
The Blazin' Buffalo Chicken sandwich is one of my favorites. Spicy chicken, mozzarella, pepper jack cheese, lettuce, and tomato are layered on toasted rye bread with their special Yow hot sauce.  The Monster is an excellent choice for beef lovers, and the Summer Jam is great if you prefer turkey.  The menu also has several vegetarian options.
If you ever grabbed a bite to eat at the 5th Street Wine and Deli (and even if you didn't), I recommend you make a visit to the new Canal Street Arcade and Deli. And I hope you enjoy the food, drinks, games, service and overall atmosphere as much as I do!