If you know Chris Small, you know he is a big guy with a big appetite!  Chris loves eating out at the many great locally owned restaurants and pubs in the Miami Valley.  Each month he'll share one of his favorites with you.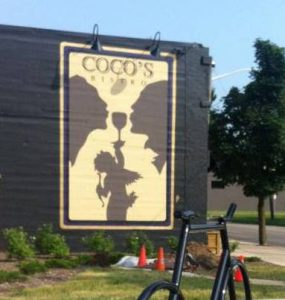 Coco's Bistro – 250 Warren Street, Dayton, OH  45402 – www.228coco.com
I consider Coco's to be a moving target.  I say this because Warren Street is their third location and with each move, Coco's has become bigger and better.  I can empathize with Karen and Jim.  We are in our second location, which is twice as large as our first.  But guess what?  Thanks to all our loyal customers, we need to expand again!
I have always enjoyed the classy, intimate atmosphere provided by Coco's.  The menu is what they describe as modern American comfort food with a twist.  Menu changes are made twice a year, and the result is always incredible.
I like to order the Lamb Lollipops as an appetizer.  And, sometimes I choose their Sea Scallops.  Both are amazing.  For a salad selection, I highly recommend the Blueberry Spinach Salad – blueberry vinaigrette, almonds, poached blueberries, whipped brie, and lemon zest over fresh spinach.  My entree choice is Red Trout with Brown Butter – pan seared, skinless-boneless red trout, sauteed spinach, shallots, and garlic with brown butter pomme puree.  Coco's menu is filled with delicious entrees including steaks, duck, pork chops, chicken, and pasta as well as artisanal pizzas.  Vegetarian choices are also available.
The wine and beer selections are phenomenal.  I'm told the desserts are awesome, but I've honestly never made it that far.  I know you'll be pleased with anything you choose at this fine dining establishment.