If you know Chris Small, you know he is a big guy with a big appetite!  Chris loves eating out at the many great locally owned restaurants and pubs in the Miami Valley.  Each month he'll share one of his favorites with you.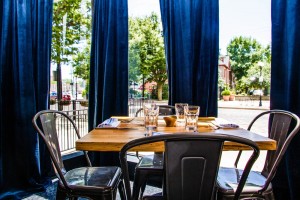 Corner Kitchen – 613 East Fifth Street, Dayton, OH  45402 – http://www.afinerdiner.com/
The Corner Kitchen is a fairly new addition to the Dayton dining scene. I must tell you that I have only visited once to date, but I was very impressed. The atmosphere is very quaint. As I reviewed the menu, it was quite difficult to make a selection as there were so many dishes that caught my eye.
They have a selection of appetizers and small plates, such as poutine (french fries covered with brisket gravy and squeaky cheese curd) and carintas tacos (braised pork with habanero aioli, shaved cabbage, and pico de gallo).
I thought long and hard about ordering the tasting menu which consists of four courses and dessert and includes a wine pairing with each course. In the end, I decided I wasn't quite that hungry and opted to sample something super healthy – Country Fried Chicken with mac & cheese, mashed potatoes, vegetable, and country gravy. I was very pleased with my selection! The fried chicken was nothing less than amazing.  The mac & cheese was topped with a yummy crust but was cheesy goodness throughout. The mashed potatoes were spot on, and the gravy was a nice surprise with a bit of a coffee flavor.
I was very impressed with the selection of wine and beers, and the service was phenomenal! (Thanks Tess!)
I look forward to returning to the Corner Kitchen soon. Hopefully I'll see some of you there too!