If you know Chris Small, you know he is a big guy with a big appetite!  Chris loves eating out at the many great locally owned restaurants and pubs in the Miami Valley.  Each month he'll share one of his favorites with you.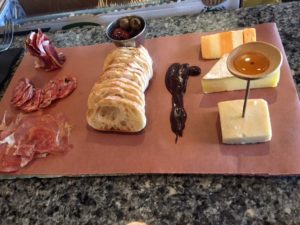 Crafted & Cured – 531 Wayne Avenue, Dayton, OH 45410 – http://craftedncured.com/
Crafted & Cured is a unique take on the growing craft community, specializing in fresh craft beers and ciders through their 60-tap growler fill station and a complimentary section of cured meats and fine cheeses. Housed in the iconic Dietz building, Crafted & Cured's ambience is a nod to the buildings original heritage. Constructed in 1886, Dietz building owner John C. Dietz opened his flourishing apothecary on the main floor along with two additional live/work retail storefronts while occupying the second floor as his family's personal residence.
If you enjoy sampling a variety of craft beers, this is a great spot for you.  Pour sizes range from a 5-ounce sampler to growlers you can take home. Pair your brew with a selection of cured meats and artisanal cheeses, which are very interesting and flavorful.
We sampled two cured meats on our visit.  First up was Dehesa Cordobesa, originating in Valle De Los Pedoches, Spain from Iberico Bellota.  Iberico Ham, also called pata negra or "black hoof," is a type of cured ham produced in Spain and Portugal. This ham has a delicate, slightly salty flavor and pleasant aroma. Taste varies depending on how much acorn the pig is fed.
Next, we tried Culatello, made by Smoking Goose in Indianapolis, Indiana.  This pork was massaged daily for a month with a blend of sea salt, black pepper, and mustard seeds along with organic white wine, then tied and hung to cure for eight months.
Along with our cured meats, we ordered the English Cheddar: Farmers Five sampler. This consisted of five authentic English cheddar cheeses made in five different counties across England – Red Leicester, Double Gloucester, Wensleydale, Cheshire, and Derby.
All our selections were very good. The experience was made even more interesting by the knowledgeable staff.  This was my first visit, and I really can't say enough about the ambience, staff, food and drink.  Crafted & Cured is a great addition to Dayton's food scene, and I'm looking forward to another trip!