If you know Chris Small, you know he is a big guy with a big appetite!  Chris loves eating out at the many great locally owned restaurants and pubs in the Miami Valley.  Each month he'll share one of his favorites with you.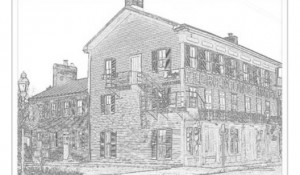 Florentine Restaurant – 21 W Market St, Germantown, OH 45327 – www.florentine-restaurant.com
The Florentine Restaurant holds a special place in my heart.  As many of you know, I raised my children in Germantown, Ohio, and we held many special occasions at this beautiful historic venue.
First, a little bit of history.  Phillip Gunckel, along with his group of German settlers, migrated from Pennsylvania and founded Germantown, Ohio in 1804.  It is said that Phillip Gunckel, realizing settlers like himself might soon be moving through Germantown, developed an inn that would be used to house travelers and visitors.  To this day his vision has held true as many patrons still visit.  The Florentine is the second oldest restaurant in the state of Ohio, originally constructed in 1816. They are open Wednesday through Sunday beginning at 4:00pm.
The Florentine offers a number of amazing appetizers. I really enjoy their chicken wings.  For a variety, order their Sampler Platter with mozzarella cheese sticks, chicken tenders, jalapeno poppers, skins, and zucchini served with marinara or cocktail sauce.
The Sandwiches here are phenomenal. My favorite is the Orange Roughy with a slice of provolone cheese.  If you are really hungry you'll have a hard time choosing between all the great entrees. The steaks are wonderful, but my favorite is the Thick Cut Pork Chops – two eight ounce center-cut char-grilled pork chops. It makes my mouth water just thinking about them!  All entrees come with a large selection of sides; I like the Sweet Potato Casserole.
There is a large selection of beverages, and the service is great.  I hope you'll take in the ambiance of this great historic restaurant soon!