If you know Chris Small, you know he is a big guy with a big appetite!  Chris loves eating out at the many great locally owned restaurants and pubs in the Miami Valley.  Each month he'll share one of his favorites with you.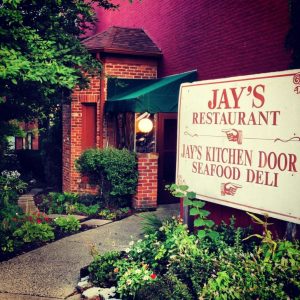 Jay's Seafood Restaurant – 225 East 6th Street Dayton, OH 45402 – www.jays.com
I always think of Jay's this time of year because of the calendars that Jay made for his customers. Also because in December they are open for lunch – a special treat for the season.  The restaurant is filled with classy decorations for the Christmas season and will definitely put you in the holiday spirit!
If you enjoy calamari but are swearing off the fried foods, try Jay's Grilled Calamari…it is incredible! I enjoy their Clam Chowder as well, and I really love the Signature Spinach Salad.  All of the fresh catches are amazing, and they change daily.  If you are looking for a sandwich, the Lobster Roll is the ticket.
Jay's has always been known for their fine selection of wines.  They have many great options to compliment your meal.  The Crème Brulée is my favorite dessert.  Their cappuccinos and coffees are a great way to cap off your night.