If you know Chris Small, you know he is a big guy with a big appetite!  Chris loves eating out at the many great locally owned restaurants and pubs in the Miami Valley.  Each month he'll share one of his favorites with you.
The Little River Cafe – 5527 Oregonia Rd, Oregonia, OH  45054 – www.thelittlerivercafe.com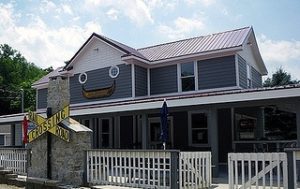 The Little River Cafe is a popular resting stop for hikers, bicyclists, motorcyclists, and canoers during the summer due to being located right off the bike trail and next to the river. On warm days, outdoor patio seating with a scenic view is available. Friday and Saturday nights, weather permitting, live music is played on the patio where friends, old and new, gather together under the stars to enjoy good food, beer, music and company.
A little history from the website…
The first settlement in Oregonia, Ohio was around 1802, where there was a mill operated by various people over the years. The Little Miami Railroad reached the village around the year 1845. The Little River Cafe original building was built in the 1870's, by the Sherwood family. It was turned into a restaurant approximately 40 years ago, by Wilson Sexton, and was known as The Sexton House. A few years later, it was renamed as The Freeport Inn. In 1993, when the bike trail was established, the building was renamed and became The Little River Cafe. The restaurant was unfortunately destroyed by an electrical fire on February 13, 2009 (Friday the 13th). With community support the establishment was remodeled and reopened in July, 2010.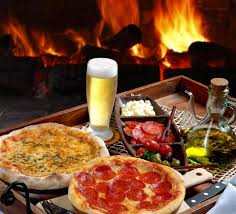 If you enjoy a scenic drive along the Little Miami River and driving across an old wooden covered bridge, The Little River Café is a great destination for you. I like to start out with an ice-cold brew, of which they have many from which to choose, and the Beer Battered Salmon Tenders.  This 8oz. piece of salmon is deep fried to a golden brown and served with their Little River Café BBQ sauce. Hungry for a sandwich?  I suggest the Homemade BBQ Pulled Pork Oven – roasted pulled pork covered with that famous BBQ sauce. They offer a variety of baskets that are all served with French fries and coleslaw as well as pizza and calzones.
Stop in during your next Sunday drive.  I hope you enjoy The Little River's friendly staff, great food and drinks, and great service as much as I do.