If you know Chris Small, you know he is a big guy with a big appetite!  Chris loves eating out at the many great locally owned restaurants and pubs in the Miami Valley.  Each month he'll share one of his favorites with you.
Milano's – multiple locations – http://www.milanossubs.com/
The Milano's Story…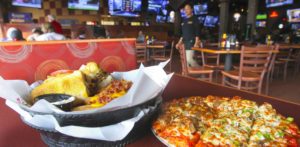 Back in 1969, before submarines or "subs" became a trendy household word, Milano's opened up its doors at 1820 Brown Street in Dayton, Ohio. College students and Daytonians alike frequented Milano's to experience one unforgettable sandwich. Much of the taste buzz came from the unbelievable bread that flanked the fresh ingredients. The founders realized that bread made from scratch right on the premises (beginning at 1 o'clock in the morning, mind you!) was the real secret to nurturing the appetites of faithful customers.
With a vow to continue its rich legacy, we refreshed the brand and expanded the concept in 2005. From subs and salads, to beer and pizzas, Milano's is becoming everyone's favorite hangout. We hope you agree!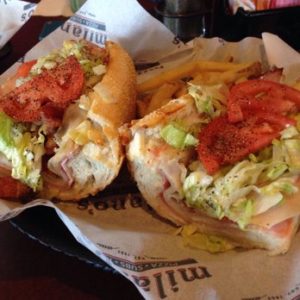 I have been frequenting Milano's since 1982. It has changed a lot over the years, but the consistency of the food definitely has not. This is a great place for watching football games! I like to order one of the many local beers on tap and some of their delicious mozzarella sticks. Then, if I'm alone, I might order a Chicken Cheesesteak. But if there are a bunch of us, we might have a BBQ Chicken Pizza. They offer a number of different pizzas, but if you don't see what you like, you can create your own pizza. They also feature calzones, French bread pizza, burgers, salads and the sandwiches they are famous for serving…Atlantic City subs.
I hope you enjoy the great service and fantastic food at Milano's! I'm sure you will have a Great Time! Merry Christmas Everyone!