If you know Chris Small, you know he is a big guy with a big appetite!  Chris loves eating out at the many great locally owned restaurants and pubs in the Miami Valley.  Each month he'll share one of his favorites with you.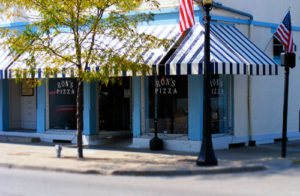 Ron's Pizza – 1 S Main St, Miamisburg, OH 45342 – www.ronspizza.com
Ron Holp, the proprietor of Ron's Pizza and Ribs, just keeps on doing what he's been doing for 39 years — making the friendliest pizza in town! Holp got involved in the restaurant business at a drive-in on Route 4, later in operating a Cassano's pizza franchise store on Miamisburg's Main Street. But on St. Patrick's Day, 1964, he and his late wife Abbie opened Ron's Pizza on North 12th Street. Now located in the IOOF Block on the west side of South Main Street, Ron's Pizza has a menu that includes pizza, ribs, sandwiches and dinners. The IOOF building is a good location for Ron's; both building and tenant are in the culture and fabric of the town.
Built for dry goods proprietor William Hoff, who operated the business in partnership with son George and later grandson H.C. Hoff, the building is said to have been erected in sections, the north in 1855 and the south in 1872. Hoff and his sons remained in the north room on the lower level while other tenants have included dentists and attorneys, the Miamisburg News, the Home Telephone exchange, an insurance company and the Miamisburg Post Office. The building was sold in 1915 to the IOOF and it became the IOOF building.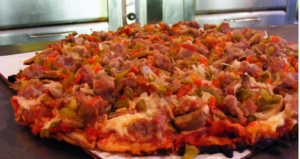 I have been going to Ron's Pizza since I was a young boy. I have very fond memories of going to Ron's with the family for pizza and a crème soda at the 12th Street location. Now on Main Street with a great patio, the pizzas are just as amazing as I remember them. You should be able to find a topping or combination you like – I've counted 20 toppings options.
If you're not looking for pizza, you are still in luck. Ron's has incredible sandwiches as well – my favorite is the Mushroom Steak Sandwich with Extra Cheese. It makes my mouth water just thinking about it! They also offer a wide variety of salads, and their dinners are fantastic. Anything from Baked Spaghetti to Eggplant Parmesan, and even Baby Back Ribs. They serve a wide variety of beers and other libations.
I hope you enjoy the friendly service, great food, and the hometown atmosphere as much as I always have!!