If you know Chris Small, you know he is a big guy with a big appetite!  Chris loves eating out at the many great locally owned restaurants and pubs in the Miami Valley.  Each month he'll share one of his favorites with you.
Salar – 400 E. Fifth Street, Dayton, OH  45402 – http://salarrestaurant.com/
Salar is great place in the historic Oregon District to meet up for happy hour or fabulous dinner. Chef Margot Blonet has created a world fusion cuisine with strong influences from France, the Mediterranean, and her native Peru.
I love to sit at the main bar and watch the certified mixologists do their thing. It is truly amazing to watch them work. You might try one of their fine crafted cocktails or choose from the great selection of wines and beers. Consider an appetizer like the Chicken Chicharrones. These chicken thigh strips are marinated and deep fried, served with a lime, cilantro, and a yellow Peruvian chili pepper sauce. If you feel adventurous, try the Baked Scallops Parmesan and Rocoto Sauce. The wild caught jumbo sea scallops are served on the shell with rocoto pepper sauce, Parmesan cheese, butter and a splash of fresh lime juice.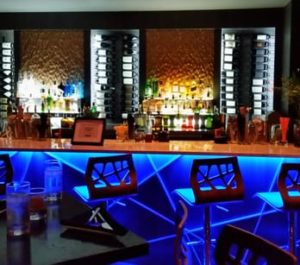 When it comes to a dinner entrée, you can't go wrong with the Red Quinoa Encrusted Chilean Sea Bass. Encrusted with red quinoa, the sea bass is seared then baked and served with a Peruvian yellow pepper cream sauce on a bed of bacon and leek confit, accompanied by cilantro rice. The Grilled Picchu Pork Chop is also a favorite. This marinated and grilled 14 ounce pork chop is topped with spicy rocoto chili jam and served with broccolini and a Yukon potato and leek puree. The menu offers several other delicious seafood, beef, and lamb dishes as well.
I have no doubt that whatever you choose to order, you'll enjoy the food, atmosphere, drinks and service. Until next time – take care and eat well!