If you know Chris Small, you know he is a big guy with a big appetite!  Chris loves eating out at the many great locally owned restaurants and pubs in the Miami Valley.  Each month he'll share one of his favorites with you.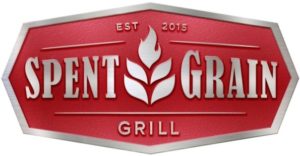 Spent Grain Grill – 26 Wyandot St, Dayton, OH 45402 – http://spentgraingrill.com
As many of you know, I love to support the local breweries! When I heard that Warped Wing was offering food at their facility, I had to give it a try. The menu was created by Drew and Tony Trick, from Lucky's Taproom and Eatery on Fifth Street. The following is a statement from them:
"Our goal is to enhance the brewery experience with craft food without distracting from the atmosphere the patrons have been enjoying. We will be offering our spin on traditional dishes using the spent grains from Warped Wing Brewing. Our flavor profiles will break out from the norm and truly add a positive aspect to an already great experience."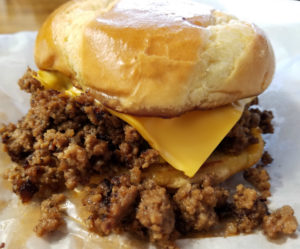 When I stopped in, I was eager to try the loose meat sandwich, as it reminded me of the same type of sandwiches served at the Maid-Rite Sandwich Shoppe in Greeneville, OH. Spent Grain Grill's version is bigger and is made with Warped Wing's Ermal's Belgian Style Cream Ale. It was delicious! Their sandwiches are served with your choice of tots or potato chips – get the tots!
The menu also offers a variety salads, pizzas, and tacos, as well as sandwiches. The full selection of Warped Wing's beers is on tap and bottled (Warped Wing was the first brewery to start canning beer in Dayton in 60 years). Just like Warped Wing, I think you'll be pleasantly surprised with the food, service, and atmosphere.