If you know Chris Small, you know he is a big guy with a big appetite!  Chris loves eating out at the many great locally owned restaurants and pubs in the Miami Valley.  Each month he'll share one of his favorites with you.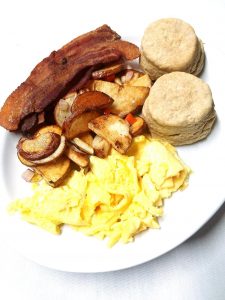 Sunrise Café – 259 Xenia Ave, Yellow Springs, OH 45387 – https://www.sunrisecafe.net/
I always enjoy a trip to Yellow Springs. There is nothing like a weekend morning motorcycle ride to this great destination! Of course, I'm going to grab some breakfast once I get there.
I'm fond of the Sunrise Café for all the reasons they describe on their website – read more about their philosophies here.
They focus on "from scratch" cooking.
They source ingredients locally.
They believe in sustainability.
They cook seasonally.
They love what they do.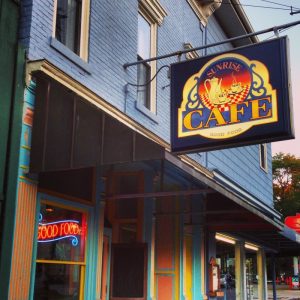 The menu is vast, so deciding what to order can be a little challenging.  For breakfast, I recommend a Sunrise Omelet with sauteed organic mushrooms, Amish cheddar cheese, and a side of bacon.  Following their commitment to local ingredients, all eggs are raised locally and organically and are served with organic house-made wheat or rye toast, a buttermilk wheat biscuit, or an English muffin.
Can't make it for breakfast? Not to worry. The Sunrise Café also serves lunch and dinner.  I like the Tandoori Chicken, Goat Cheese and Roasted Pepper Quesadilla, featuring local organic chicken marinated and roasted in middle eastern tandoori marinade, local Blue Jacket Dairy goat cheese, and roasted bell peppers on a grilled organic corn tortilla. It's served with their sunflower-kale salad and wasabi-lime aioli. A wide variety of sandwiches and salads are also offered.
I think that no matter what you choose, you'll like the food, atmosphere, and service you'll receive at the Sunrise Café.