If you know Chris Small, you know he is a big guy with a big appetite!  Chris loves eating out at the many great locally owned restaurants and pubs in the Miami Valley.  Each month he'll share one of his favorites with you.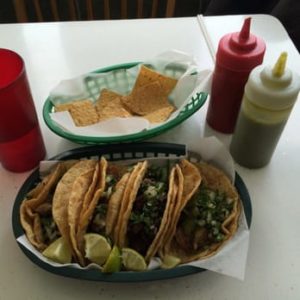 Taco Loco – 5392 Burkhardt Rd, Dayton, OH 45431 – connect with them on Facebook
I admit that stopping in for this article was my first visit to Taco Loco, but one visit is enough to tell you that this is definitely THE place to go if you want authentic Mexican food.
The warm, friendly staff will greet you with smiles as soon as you walk through the door. As soon as you are seated, they will bring you chips and salsa for nibbling. Be warned – even the mildest salsa is smoking hot! The salsa is served in a squeeze bottle rather than an open dish, so you can sample just a little at a time. Be sure you have a glass of water ready.
Taco Loco does not sell alcohol of any sort, so you'll have to be satisfied with a Coke product.  They do offer the Mexican Coke made with pure sugar cane, which is a treat you can't find many places around Dayton.
As with many Mexican restaurants, the menu is extensive. We ordered a variety of tacos: chicken, braised pork, Mexican sausage, and tongue.  All are served in a soft corn tortilla with lettuce, tomato, and sour cream. My favorite, however, was the chicken quesadilla made with a flour tortilla, chicken, cheese, lettuce, tomato, and sour cream. Taco Loco offers full dinners, such as grilled steak, fajitas, and stuffed peppers, all served with salad, rice and fried beans. Sopes, burritos, huaraches, and tortas are available as well.
Be sure to go with a big appetite!