If you know Chris Small, you know he is a big guy with a big appetite!  Chris loves eating out at the many great locally owned restaurants and pubs in the Miami Valley.  Each month he'll share one of his favorites with you.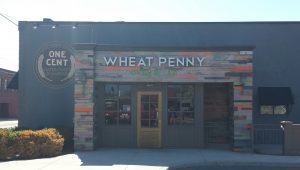 Wheat Penny Oven & Bar – 515 Wayne Ave, Dayton, OH 45429 – www.wheatpennydayton.com
As I read about the history of the two friends that opened Wheat Penny, it was very apparent that food and cooking are their passions. As you walk in to Wheat Penny, you will notice that the decor is very unique, yet warm and inviting.  The menu is much the same, but the mainstay here is the pizza.  So on this, my first visit to Wheat Penny, that is what I had to try.
But, of course, I needed an appetizer. I went for the Eggplant Fries with a crispy rice coating with yogurt sauce. They were delectable.  Their daily soups are incredible as well.
Now, on to the pizza. It was a very tough choice, but I decided to try the White Pizza with Smoked Salmon, Bechamel, Capers, and Sour Cream.  It was no less than amazing.  I also ordered Creamed Spinach as a side, which was wonderful.   The service was superior, and they have a large bar menu.
I'll definitely come back to Wheat Penny. I saw so many plate dinners on the menu (all served after 5pm) that I'm dying to try.  Crispy Brick Chicken Thighs for one.  Also the Porchetta, a pork shoulder smeared with slow cooked sofrito, wrapped in Duroc pork belly, then trussed up and roasted till it's crispy on the outside and melt in your mouth on the inside.  Who wants to join me?