If you know Chris Small, you know he is a big guy with a big appetite!  Chris loves eating out at the many great locally owned restaurants and pubs in the Miami Valley.  Each month he'll share one of his favorites with you.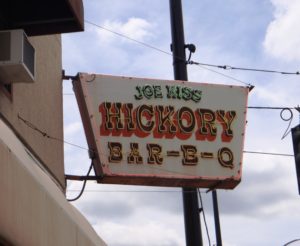 Hickory Bar-B-Q – 1082 Brown Street, Dayton, OH  45409 – www.hickorybarbq.com
I have to admit, it had been a while since I had stopped in to what I refer to as "Old Hickory Bar-B-Q" for dinner.  After owner Joe Kiss passed away, I thought the quality of the food went downhill a bit.  However, the family (who still owns the restaurant today) has definitely stepped up their game!  (Read about the Hickory's great history on their website!)
I like to start with a shrimp cocktail or fried oysters.  If you are not planning on ribs as your entree, I recommend the Ribs Sampler as an appetizer.  The ribs are incredible, and the Barbecued Ribs Dinner is typically my entree choice.  They also serve Broasted Chicken, which is well worth the little bit of extra wait.  The steaks are fantastic as well – I prefer the filet.
Hickory Bar-B-Q offers daily specials as well as lunch specials.  On my most recent visit, the service was spectacular and the food was exceptional.  I highly recommend stopping in…especially if you haven't been in a while!