If you know Chris Small, you know he is a big guy with a big appetite!  Chris loves eating out at the many great locally owned restaurants and pubs in the Miami Valley.  Each month he'll share one of his favorites with you.
Another Broken Egg – 3450 Rigby Rd, Miamisburg, OH 45342 – http://www.anotherbrokenegg.com/
As of you are probably aware, our facility is located in close proximity to Austin Landing. And in Austin Landing is a great little place called Another Broken Egg. I know we typically feature locally owned restaurants and this is a chain, but the staff there is so nice that I couldn't overlook them.
I eat at Another Broken Egg often – usually for breakfast. Our technical salesman, Dan Reynolds, always thinks I'm going to the Golden Corral to hang out by the chocolate fountain, but I have him fooled. I sit at the bar so I can catch up on the news while drinking a great cup of coffee and a tall glass of water with cucumber slices.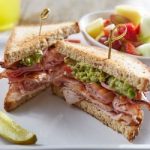 The steel cut oats with fruit and nuts is a great, healthy breakfast. But sometimes I decide not to eat so healthy because you all know I'm a foodie! On the days I decide I want something that may not be the healthiest but sure tastes good, I go for the Supreme Omelet filled with sausage, bacon, and mushrooms and topped with cheddar jack cheese – hold the onions. Another Broken Egg does have a liquor license, so on the weekend I might add a Bloody Mary or a Peach Bellini.
They also have great lunch selections.  I highly recommend the California Club sandwich – ham, turkey, baked bacon, guacamole, cheddar jack cheese, tomato, and pickled red onions on your choice of white or nine grain bread. I know whether you stop in for breakfast, brunch, or lunch, you are going to enjoy it. The staff, the food, and the atmosphere are all top notch!