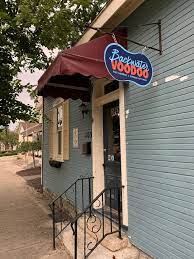 Backwater Voodoo – 103 S 2nd St, Miamisburg, OH 45342
Backwater Voodoo is a tiki lounge and creole kitchen in the heart of the City of Miamisburg. What at first appears to be the entrance to a private home, opens up to a full dining area and bar. Though the dining room is not large, it is augmented by a spacious back patio.
The first item handed to us when we sat down was the drink menu with a multitude of options. The most noticeable drink on the menu was called the "Cauldron of Doom". This drink is not for the faint of heart and comes with 4 straws for multiple people to assist with this monstrosity. This drink also comes with a fun twist of a flaming sugar cube and a random dare provided by the staff for added entertainment. The other selections on the menu were a wide variety of fun and unique drinks. To try them all in one visit would be most unwise.
For our meal, we ordered the Nola jambalaya dip for an appetizer and the Creole catfish for the main course. The Dip was by far one of the tastiest dips I had ever had with a multitude of cheeses and caramelized peppers. We had demolished this dip with 4 people in less than 2 minutes and had to order more. The catfish was cooked perfectly, complimented with a side of rice. The creole seasonings amplified both items and the portions given could satisfy any appetite. This is definitely one of my favorite local eats and I will definitely be returning soon.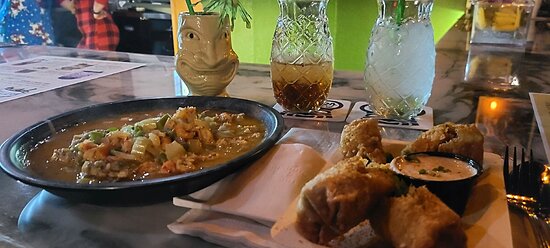 Reviewed by: Caleb Conn