We're local and we like to support local. We especially like to EAT local. Every month we send a staff member or two out to try a locally owned Miami Valley restaurant, then share the experience here with you.
CJ Chan – 2747 W Alex Bell Rd., Moraine, OH 45459 & 536 Wilmington Ave, Dayton, OH 45420 –https://www.mycjchan.com/rs/index_home.action
If you love Chinese or Japanese cuisine, you will love CJ Chan's. Don't be fooled…the exterior is very unassuming for the delicious food waiting inside!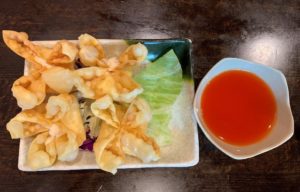 We visited the Moraine location for lunch and started with one of the most popular Chinese food appetizers on the menu – the crab rangoon. My companion, who has eaten here before, claims they are "the best I've ever had anywhere," so I had to give them a try. Fried to a golden perfection, the outside was crispy and the inside was oh-so-creamy. That's what everyone wants in a crab rangoon, right?
The Chicken with Garlic Sauce was very flavorful, with big slices of chicken and broccoli along with bamboo shoots, carrots, and baby corn, served with white rice.
The lunch portion of Sesame Chicken is served with fried rice and your choice of soup or an egg roll. At most places, breaded dishes lose their crispiness when sauce is added. Not so for CJ Chan's. I was pleasantly surprised that the Sesame Chicken was still very crunchy.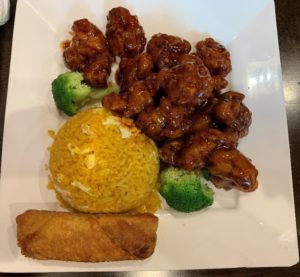 I have no problem saying this is the best Chinese food I have ever eaten. And while we stuck to the Chinese menu on this visit, I am sure the Japanese fare is just as delicious. You should definitely check out either the Moraine or Dayton location the next time you are nearby!
Reviewed by: Diedra Howell