If you know Chris Small, you know he is a big guy with a big appetite!  Chris loves eating out at the many great locally owned restaurants and pubs in the Miami Valley.  Each month he'll share one of his favorites with you.
Harrigan's Tavern – 4070 Marshall Rd., Kettering, OH  45429 – visit them on Facebook
I think a lot of us have taken the opportunity, at one time or another, to stop by Harrigan's Tavern on St. Patrick's Day. Turns out they're open the rest of the year too – who knew?
Harrigan's offers a nice neighborhood feel with an outdoor covered patio. They have a great beer selection and a pretty tasty menu. Lately I've been trying to lose a few pounds, so I've been trying to order more salads. So for a salad, I love their Mandarin Chicken Salad which includes a char-grilled chicken breast, fresh salad greens, mandarin oranges, and toasted almonds served with a sesame vinaigrette.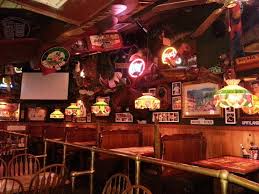 When I was eating like every meal was my last meal, I might have ordered the cheese quesadilla with chicken, because who doesn't love a flour tortilla stuffed with tomatoes, onions, and cheese? Harrigan's version is excellent. I'm also a fan of the Mad Mushroom-N-Swiss – a hand-pattied burger topped with melted Swiss and a mound of sauteed mushrooms, served on a Kaiser bun. Did I mention they also have pizza and lots of other sandwiches?
I think you'll have a great time at Harrigan's they have a great staff, great beer and excellent food.