We're local and we like to support local. We especially like to EAT local. Every month we send a staff member or two out to try a locally owned Miami Valley restaurant, then share the experience here with you.
Mamma DiSalvo's Italian Ristorante – 1375 E. Stroop Rd., Kettering, OH 45440 – http://www.mammadisalvo.com/
I'm not sure how this iconic Kettering restaurant has not yet been featured in our monthly restaurant review. Given that Mamma DiSalvo's celebrated their 40th anniversary over the summer, this seems that this is an oversight requiring immediate correction.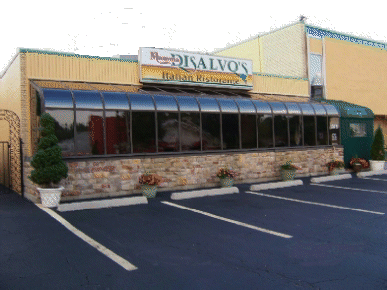 Mamma DiSalvo's is the ultimate definition of a family owned and operated restaurant. Opened by Rinaldo and Elena DiSalvo with their three sons (Nicola, Rinaldo Jr., and Roberto) and Elena's father in 1979, they have been serving authentic Italian food created from family recipes for four decades. While Mamma is still around the restaurant on a regular basis, daily operations are now handled by Chef Roberto, his wife Shari, and their son Vincenzo.
Mamma D's has certainly been a favorite of my family for many years. It's the perfect place to celebrate a special occasion – whether that be a birthday, an anniversary, or just a good hair day. When you dine in, you're treated like family and you always leave full. Mamma D's is also a great choice when you need to feed your people but don't have the time (or desire) to cook. You can carryout anything from a single entrée to an entire lasagna. We've done that more than a couple of times, including tonight.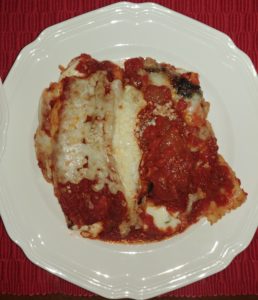 While I've never had a bad meal at Mamma DiSalvo's, I lean toward the vegetarian lasagna as my favorite menu item. It's a family recipe and one of the house specialties, featuring layers of pasta, ricotta cheese, mushrooms, and spinach topped with mozzarella. This time, I was determined to choose an entrée I've never ordered. Enter Manicotti Al Forno. If you are craving cheesy pasta goodness, you need this. Mamma's homemade pasta crepes are stuffed with a family cheese recipe, covered in their signature marinara sauce and mozzarella, then baked to ooey gooey perfection.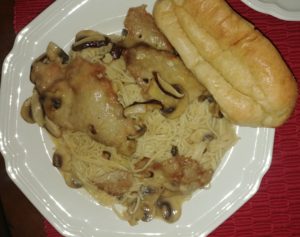 In the name of trying new things, my other half ordered the Veal Scallopini. The veal medallions are expertly sautéed in a white wine sauce with mushrooms and served over a bed of angel hair pasta – delicious!
If for any reason you have yet to experience a meal at Mamma DiSalvo's, I highly recommend you get there soon!
Reviewed by: Joy McMeekin