If you know Chris Small, you know he is a big guy with a big appetite!  Chris loves eating out at the many great locally owned restaurants and pubs in the Miami Valley.  Each month he'll share one of his favorites with you.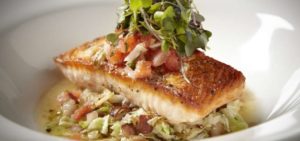 Meadowlark Restaurant – 5531 Far Hills Avenue, Dayton, OH  45429 – http://meadowlarkrestaurant.com/
Meadowlark is a chef-owned and operated neighborhood restaurant in the heart of Dayton, Ohio. Their menus feature high-quality ingredients cooked simply but imaginatively with lively, bright-tasting flavors. Their cooking is geared toward the American palate, which means fluffy, buttermilk mashed potatoes, homemade pickles and cornbread, and great pancakes at brunch. There will always be a burger on the menu. They also feature meat, fish and vegetarian dishes that employ the flavors and techniques from around the world that they have all come to love. This is contemporary everyday cooking, from scratch, made and served with local pride.
Meadowlark has a bar program featuring an impressive variety of spirits, freshly squeezed vegetable and fruit juices, lots of fresh herbs, house-made syrups from ginger to hibiscus to black pepper, and their awesome homemade bitters. Their craft beer and small producer wine lists change with the seasons.
When I visit Meadowlark, ordering is a tough decision because everything is so good! Sometimes I opt for the house green salad and add a seared salmon fillet. If I'm feeling really hungry, I might go for the Spaghetti Carbonara – steaming strands of spaghetti very lightly coated with tiny soft curds of egg and ricotta, accented with Nueske's smoked bacon, peas, black pepper and parmigiana reggiano cheese.
Another favorite is the pork tenderloin with jezebel sauce. The juicy pork tenderloin cutlets are seared and sauced with jezebel, a classic southern combination of peach preserves, mustard, horseradish and white pepper, which they hit with a shot of cream to form a silky, addictive, bold flavored sauce that is perfect with pork. It's not spicy, but is lively. And the all-natural Midwestern- raised pork is the best they can get. Served with mashed potatoes and fresh vegetables.
In addition to lunch and dinner service Tuesday through Saturday, Meadowlark also offers a Sunday brunch. I hope you get a chance to experience the great food, service, and atmosphere of Meadowlark. And I hope everyone has a very Merry Christmas!