We're local and we like to support local. We especially like to EAT local. Every month we send a staff member or two out to try a locally owned Miami Valley restaurant, then share the experience here with you.
Mr. Boro's Tavern – 495 N. Main Street, Springboro, OH 45066 – www.mrborostavern.com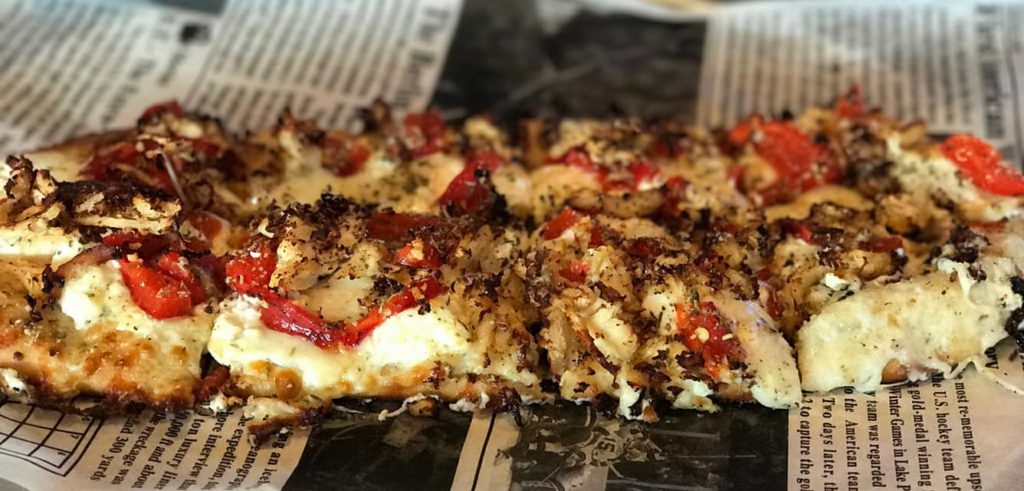 On a cold and snowy day, we ventured to Mr. Boro's to check out this neighborhood tavern. Though the weather was likely keeping the crowds at bay, Mr. Boro's has a classy sports bar atmosphere. A giant mural of the Horseshoe will leave Buckeye fans feeling right at home.
We started with a Toasted Bruschetta appetizer, which is a riff on the classic recipe. A goat cheese spread, roasted red peppers, and tomatoes are layered on toasted bread. A house favorite, this tasty combination was definitely big enough to share.
We stuck with "house favorite" menu items when it came time to move on to entrees. The Goat Cheese Roasted Red Pepper Pulled Chicken Flatbread was super cheesy, combining mozzarella, parmesan, and goat cheese on an olive oil base along with smoked pulled chicken and roasted red peppers. If you are a grilled cheese gourmet, the Pigskin Grilled Cheese sandwich might be right up your alley. If a grilled cheese and a barbeque pulled pork sandwich had a baby, this would be it. It was big. It was messy. And it was GOOD. The sandwich was served with homemade potato chips, nicely seasoned and sprinkled with parmesan. They would be worth ordering on their own.
In addition to beers, wines, and cocktails, Mr. Boro's serves up some specialty coffee drinks, which made for a satisfying dessert on a cold day.
This was definitely better than your average sports bar fare, and it was obvious that menu items were scratch-made. A sign behind the bar listed upcoming live music, and there was a nice patio to enjoy in warmer weather. Final verdict…we'll be back.
Reviewed by: Joy McMeekin